Missing teeth affect your smile and health in many ways, but dentures are often uncomfortable and can shift at embarrassing moments.
Teeth in a Day can immediately replace loose, broken, or missing teeth with an implant-supported restoration that looks natural and stays put.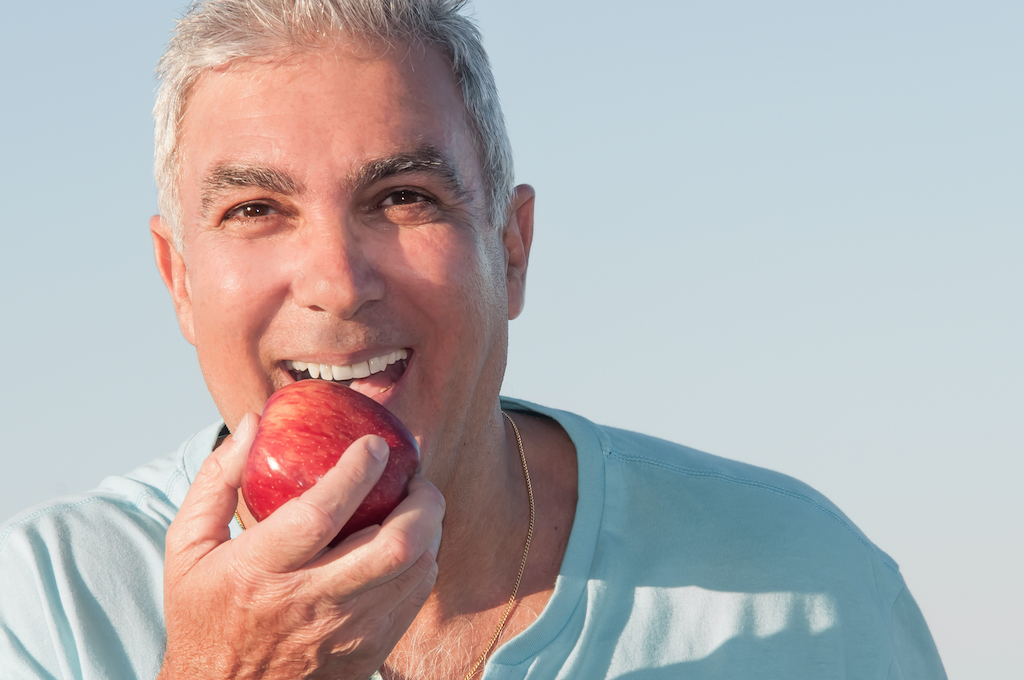 With teeth in a day, you are never without teeth.
The Teeth in a Day procedure allows your dentist to attach temporary teeth at the same time as your implant placement. You wear your temporaries throughout the healing process.
Everything from extraction to restoration happens in a single day. If your remaining teeth are worn, damaged, or loose, your dentist can remove and replace them with your implant-supported temporaries all in one appointment.
With Teeth in a Day, the recovery period is less disruptive than that of traditional implants. You can avoid spending months without teeth waiting for your implants to heal.
27% of adults over 65 have no remaining teeth.
But Does It Cost More Than Regular Implants?
Teeth in a Day costs about the same as replacing your teeth with a regular implant-supported denture. The final cost will depend on a couple of factors, including how many implants you need and the quality of your denture. A full implant-supported denture can cost anywhere from $7,000 to $90,000. The average cost is usually about $34,000.
If your dentist performs the All-on-4® technique and uses only four implants to support your denture, your price may fall into the lower end of the range. However, there are a lot of other factors that can impact the final price of Teeth in a Day, including the type of temporary restoration you need.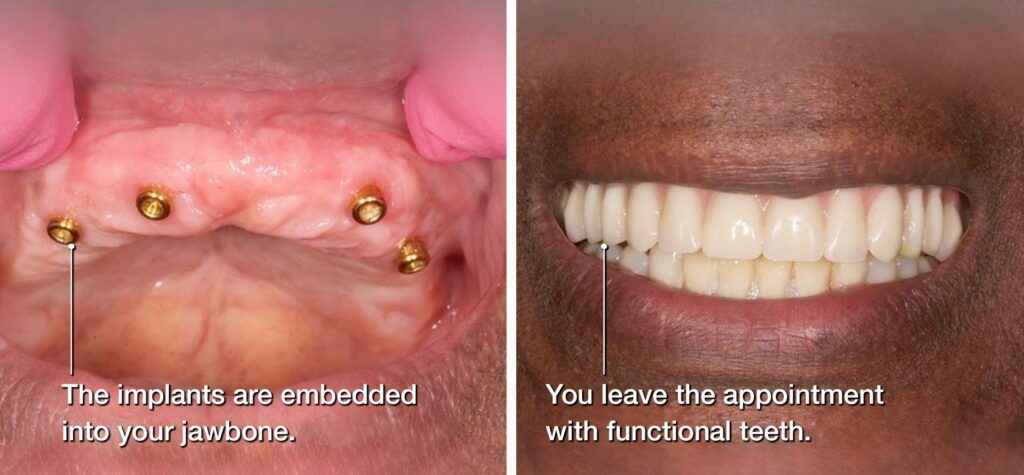 During this appointment, you will meet with your dentist and finalize your treatment plan. They will likely take impressions of your smile to create your temporary restoration.
On the same day as your implant placement procedure, your doctor will attach a set of temporary teeth to wear during the healing process.
For most patients, it takes three to six months for dental implants to fuse with the surrounding bone tissue. For the first couple of weeks, you may need to eat a soft food diet.
Once your implants have fully healed, your dentist will replace your temporary teeth with your new permanent smile.
At Midwest Oral & Maxillofacial Surgery we know how to help you. Our board-certified surgeons and expert staff can provide the care you need to relieve the discomfort you feel.
What are others saying about us?
"Dr. Drooger removed my wisdom teeth and did a great job. He was very kind and professional. I would recommend to anyone, and plan on returning for when my kiddo's need their wisdom teeth out."
"...Dr. Kratky was very thorough as he went over the procedure and after care. He put my fears to ease and answered all my questions. I had never had surgery or sedation so I was very nervous. He took the time to get to know me before taking me back. I had a great experience with this location and Dr. Kratky. I would highly recommend them to anyone who needs their wisdom teeth removed."
"Awesome experience here!! My son was so nervous for his permanent tooth extraction, especially after all he had been through. Thank you Dr. Backer and staff for your excellent care and consideration and just being so understanding. I was impressed from the front desk staff to the nurse that helped us out the door after the extraction. I knew at the consultation that we were at the right place. Thank you!!"