Improve the health of your jaw
with a bone graft
Bone grafting is a surgery where the missing bone is replaced to allow for effective dental implants. With our advanced oral technology and procedures, we can even promote new bone growth in that location for optimal results.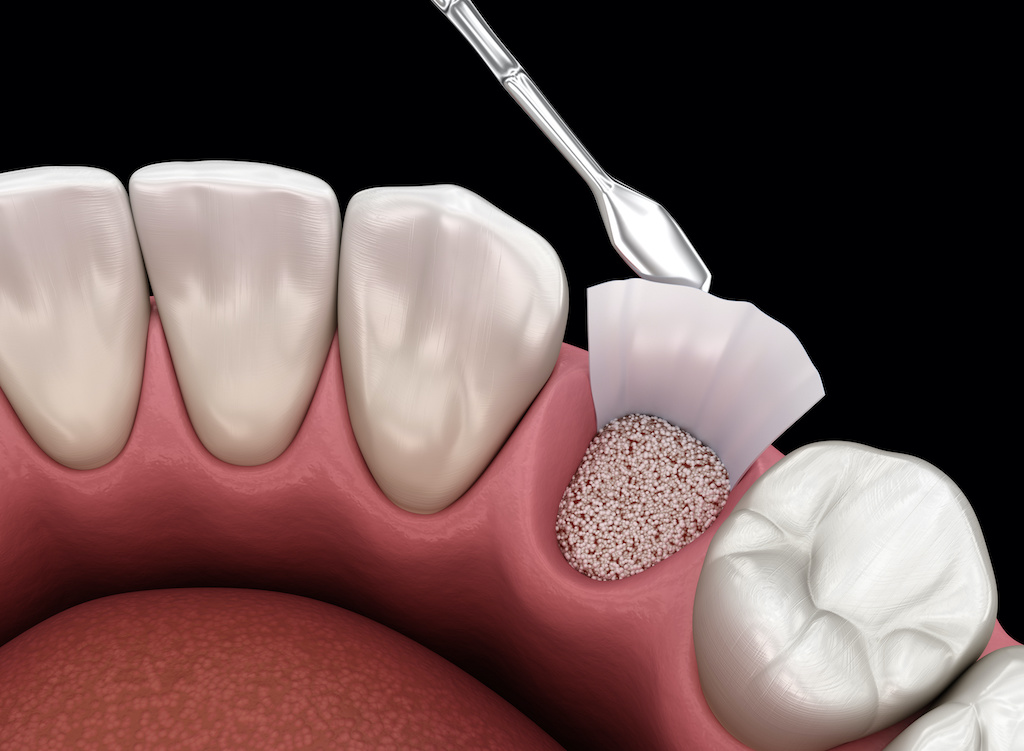 Also known as autograft, autogenous bone grafts involve taking samples from your bones located elsewhere and using these samples to rebuild the jawbone. Common harvest areas include the skull, hip, lower leg bone, jaw, and chin. The advantages of such a procedure include increased bone growth and the reduced chances of your body rejecting the bone, as it comes from your own body.
Allogenic bone (or allograft) is bone harvested from a cadaver. The bone is sterilized and then processed in a freeze-dried method. Allogenic bone grafts serve as a scaffold to guide healing of the jawbone.
Xenogenic bone is extracted from another non-living species, like a cow. The bone is processed at high temperatures to sterilize the bone and reduce the risk of contamination and immune rejection. Xenogenic bone does not promote natural bone growth either. However, it does not require a second procedure such as the autograft.
In some cases, natural bone extractions and placements may not be an option for patients. Our visionary oral surgeons are skilled at using synthetic materials to mimic the effects of normal bone grafts.
Graft composites mix together materials such as collagen / ceramic composite, bone marrow cells, and more to provide stability and generate growth factors.
This is extracted collagen, protein, and growth factors from allograft bones to be used as a bone graft. It can take the form of putty, chips, powder, or gel.
Bone morphogenetic proteins (BMPs) are naturally produced in the body. They regulate and promote bone healing and formation.
At Midwest Oral & Maxillofacial Surgery we know how to help you. Our board-certified surgeons and expert staff can provide the care you need to relieve the discomfort you feel.
What are others saying about us?
"Dr. Drooger removed my wisdom teeth and did a great job. He was very kind and professional. I would recommend to anyone, and plan on returning for when my kiddo's need their wisdom teeth out."
"...Dr. Kratky was very thorough as he went over the procedure and after care. He put my fears to ease and answered all my questions. I had never had surgery or sedation so I was very nervous. He took the time to get to know me before taking me back. I had a great experience with this location and Dr. Kratky. I would highly recommend them to anyone who needs their wisdom teeth removed."
"Awesome experience here!! My son was so nervous for his permanent tooth extraction, especially after all he had been through. Thank you Dr. Backer and staff for your excellent care and consideration and just being so understanding. I was impressed from the front desk staff to the nurse that helped us out the door after the extraction. I knew at the consultation that we were at the right place. Thank you!!"