Midwest oral maxillofacial & Implant surgery
For questions regarding a statement
or to make a payment call our Billing Department at
636-489-1260 or email: billing@midwestomfs.com
At Midwest Oral Maxillofacial & Implant Surgery, our goal is to couple reasonable prices with truly excellent and exceptional care from our caring team of oral surgeons. Unless other arrangements are established prior to your appointment, payment will be required at the time of service. Our experienced and friendly administrative staff is happy to answer any questions you may have about our financial policy and insurance, so be sure to give us a call at any time. You can also view our Financial Policy Document or Privacy Policy for more information about our policies.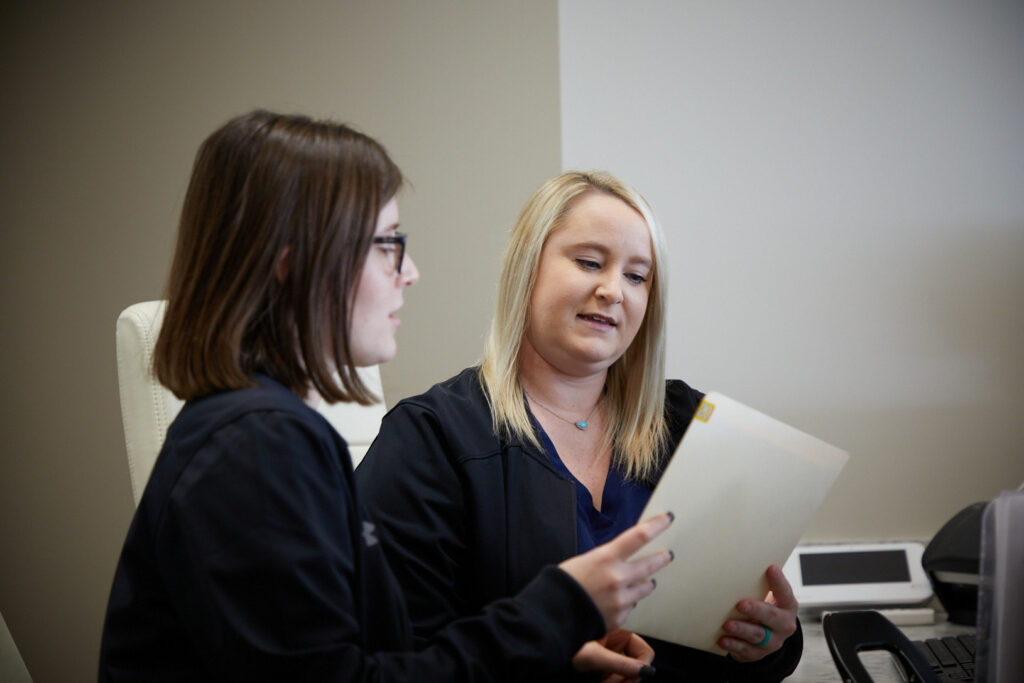 It is important to note that you are responsible for all your costs of care at Midwest Oral Maxillofacial & Implant Surgery, despite your insurance coverage. You can expect a monthly statement from our office. It takes most insurance carriers about four to six weeks to respond. If your statement does not match up with the information from your insurance payment during this time, please contact our office. Note that you will be responsible for any balance remaining on your account after your insurance company has paid. We do request and appreciate prompt payment of this remaining balance.
If you would like information about setting up a monthly payment plan, contact us prior to your procedure to make arrangements.
CareCredit Financing Dental Care
Our office is proud to provide patients with the CareCredit card. This card has been called North America's "leading payment program," allowing applicants to receive the treatment they need right away and making payments over time in manageable monthly installments. CareCredit facilitates both No Interest plans as well as Extended Payment plans for treatment fees.
The No Interest Payment Plans offer:
You can complete the application for CareCredit in minutes, and you'll receive a decision online right away. There are no pre-payment penalties or fees attached to CareCredit. This program provides a revolving credit line for add-on adjustments and further treatment, without requiring patients to reapply. Click here to apply, or contact our staff if you have any questions.
Have Questions about how we can help?
At Midwest Oral Maxillofacial & Implant Surgery, our goal is to treat all of our patients like family. With a range of cutting-edge technology and advanced training, our surgeons can perform all of your oral and maxillofacial surgical needs safely and efficiently.  If you think you or your child may require any of our listed oral surgery procedures, call (636) 379-1333 or contact our office online. You can also visit one of our locations to schedule an appointment today.
At Midwest Oral & Maxillofacial Surgery we know how to help you. Our board-certified surgeons and expert staff can provide the care you need to relieve the discomfort you feel.
What are others saying about us?
"Dr. Drooger removed my wisdom teeth and did a great job. He was very kind and professional. I would recommend to anyone, and plan on returning for when my kiddo's need their wisdom teeth out."
"...Dr. Kratky was very thorough as he went over the procedure and after care. He put my fears to ease and answered all my questions. I had never had surgery or sedation so I was very nervous. He took the time to get to know me before taking me back. I had a great experience with this location and Dr. Kratky. I would highly recommend them to anyone who needs their wisdom teeth removed."
"Awesome experience here!! My son was so nervous for his permanent tooth extraction, especially after all he had been through. Thank you Dr. Backer and staff for your excellent care and consideration and just being so understanding. I was impressed from the front desk staff to the nurse that helped us out the door after the extraction. I knew at the consultation that we were at the right place. Thank you!!"