Precise Planning And Treatment
With Advanced 3-D Imaging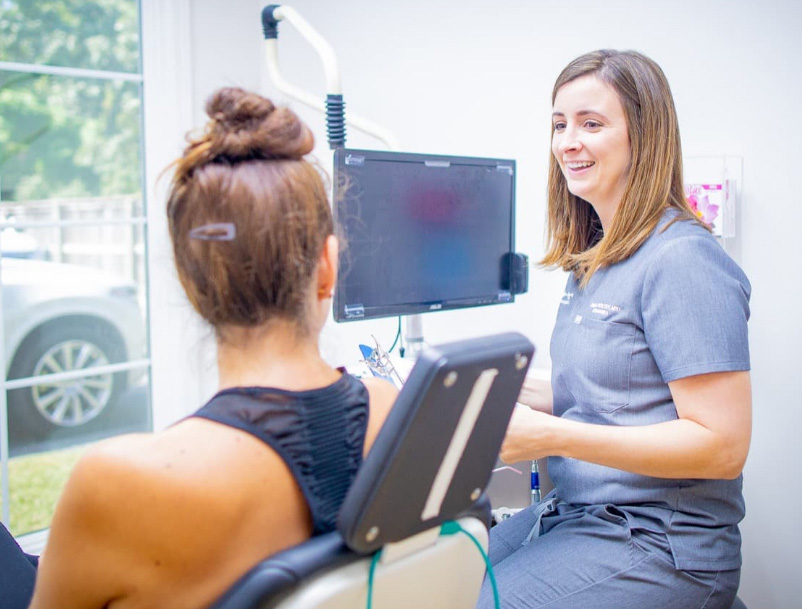 At Midwest Oral Maxillofacial & Implant Surgery, we utilize state of the art technology to provide patients with optimum diagnosis. The I-CAT system gives our oral surgeons in St. Louis, St. Charles, and Jefferson Counties the accuracy and precision they need to determine oral health conditions and find effective solutions. As one of the leading 3-D imaging systems in the dental industry, the I-CAT allows our dentists to provide precise and focused dental care services.
For comprehensive diagnosis and treatment options, contact our oral surgery team at one of our six St. Louis area locations for a consultation today.
Accuracy &
Precision for
Your Oral
Health Care
With I-CAT 3D imaging, our doctors can provide superior care to patients. Unlike the traditional CT scanner, this system uses cone beam CT technology that allows us to access greater areas in the oral region, while reducing radiation exposure to the patient. With this device, oral surgeons can select a specific scanning area, rather than the whole mouth. 3D imaging produces crystal-clear, precise images, catching even the smallest details. This level of detail allows our specialists to carefully examine oral cavities and find more comprehensive solutions for dental problems.
Other benefits of I-CAT 3D imaging include:
Experience
The Benefits
Of 3D Imaging
For Your Procedure
At Midwest Oral Maxillofacial & Implant Surgery, our surgeons all work together to provide specialized care for your oral diagnosis and treatments. They use innovative technology to expedite the process and maintain precise control. With the clear images produced by the I-CAT system, they can make more informed decisions about your oral health. They work together to ensure you are properly taken care of and that your experience at our St. Louis oral surgery facilities is an excellent one. We welcome patients from across Missouri and Southern Illinois.
Have Questions about how we can help?
At Midwest Oral Maxillofacial & Implant Surgery, our goal is to treat all of our patients like family. With a range of cutting-edge technology and advanced training, our surgeons can perform your wisdom tooth extraction safely and efficiently. If you think you or your child require wisdom tooth removal, call (636) 379-1333 or contact our office online. You can also visit one of our locations to schedule an appointment today.
At Midwest Oral & Maxillofacial Surgery we know how to help you. Our board-certified surgeons and expert staff can provide the care you need to relieve the discomfort you feel.
Great care! If I ever have to do this again I'd return. The doctor was calm and kind, explained everything to me before hand and answered all my questions. The support staff was just as sweet. The office was clean and has COVID precautions in place.
— Clarice V.